Keynote and Featured Speakers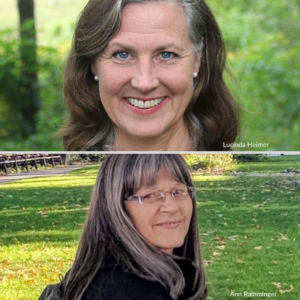 Keynote Presentation: Thursday, October 1
LIVE on Zoom: 10:00 am
Universal Preschool in Extraordinary Times: Reshaping Views of Power, Policy, and Equity with Lucinda Heimer, Associate Professor at University of Wisconsin-Whitewater and author  and Ann Ramminger, author and Founder of Early Childhood Solutions Consulting.
As we face a global crisis with uncertainty given COVID-19 and economic, racial and civic unrest, our passion for equity in early education packs potential. It takes work to address assumptions as issues of power imbalances emerge, defined by culture, language, race and ability, among other factors. In this session we use research and stories to highlight perspectives from our book Reshaping Universal Preschool: Critical Perspectives on Power and Policy,  to consider equitable ways forward in early education. How do we recognize and honor each stakeholder as we craft the future of early education in the US (funding, structure, access, curriculum)?  How do we navigate collaborative community conversations to address issues of equity?  A lot is at stake.
Order a copy of Reshaping Universal Preschool: Critical Perspectives on Power and Policy by Lucy

 

Heimer and 

Ann

 

Ramminger. Use

 

coupon code: WECA2020

 

for a 15% discount

 

and free shipping

!

 

(Valid 8/31-10/30/2020)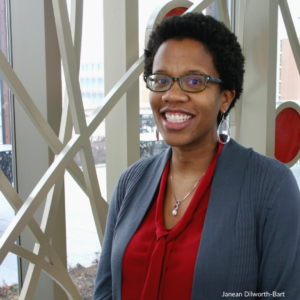 Keynote Presentation: Friday, October 2
LIVE on Zoom: 10:00 am
Roll of Thunder, Hear my Cry: An Opening Discussion about Anti-Black Racism, #BLM, and What Early Childhood Professionals Can Do with Janean Dilworth-Bart, Associate Dean for Faculty Affairs; Phyllis Northway Faculty Fellow; Professor Human Development and Family Studies Department.
The purpose of this workshop is to introduce participants' to some of the historical underpinnings leading up to protests stemming from the murders of Black people including (but not limited to) George Floyd, Amaud Arbery, Breonna Tayler, Tamir Rice, and Elijah McClain. I aim to make this a challenging, yet worthwhile, discussion that you will leave with the ability to describe what Black Lives Matter means as well as understand what is meant by terms like structural racism and social justice. We will also discuss the importance of differentiating the intent and the impact of our actions. We will end our time together with a discussion of what's next; what can we do as individual members of society and professionals to promote equity and justice in early childhood spaces.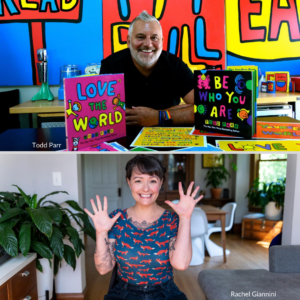 Keynote Presentation: Saturday, October 3
LIVE on Zoom: 10:00 am
Finding Joy with Todd and Rachel
This keynote is all about joy! Yes…you can find joy in 2020! Join Todd Parr, author and Illustrator of more than 40 books for children, and Rachel Giannini, teacher, early childhood specialist, and star of No Small Matter, as they feature not only an exclusive look at Todd Parr's newest masterpiece but a rich discussion filled with tips and tricks for how we can celebrate joy in our groups every day!