Greater Milwaukee Chapter of WECA: Patchwork of Trainings-Infant/Toddlers
February 23, 2019 @ 8:00 am

-

12:00 pm

$15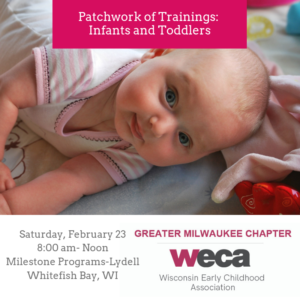 Greater Milwaukee Chapter of WECA is offering the same great workshops, now offered as four mini trainings.
Each "Patchwork of Trainings" will have a focus age group with a tour of the hosting center. Two workshops will be offered during that training.
Infant/Toddler
Workshop 1: Eating, Sleeping, and Everything In Between: A Day with Infants
Presenters: Kendra Hinchen and LaTanya Winston, Infant Room Head Teachers, Milestones Programs for Children
Do you struggle with the 30 minute napper, the infant who needs to be "entertained" or when and how to introduce solids? This session will give you a few tips and tools to make your day run a little smoother. We will share with you some pointers that have helped us through some challenging moments and answer any questions you may have about infant care.
Workshop2: Loose Parts for Infants and Toddlers
Presenter: Catherine Roach, Teacher at Grandma's House
Participants will learn what loose parts are and how to use them with infants and toddlers. Tips, suggestions, and resources will be shared, as well as hands-on experience. If you are already familiar with loose parts, bring photos and stories to share (if you put the photos on a flash drive we should be able to project them for all to see). If you want to learn about loose parts or get some new ideas, this session is the place to be.
Cost:
Members $15/workshop
Non-Members: $25/workshop
Space is limited to 30 participants.
To reserve your spot, email Michelle Sorce at michelles@glendaleheightschildcare.com