Picky Eaters with Kelly Matthews
February 18, 2019 @ 6:15 pm

-

8:15 pm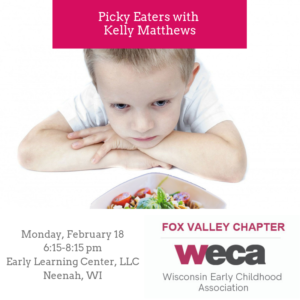 Join Kelly Matthews for a training session on how to work with picky eaters.
Kelly Matthews has the joy of exploring engaged learning with people of all ages. She is a published author and poet. She has worked in both center- and home-based care, as well as having been a director, nanny, & mentor teacher. Currently, she is the owner of A Place For You Consulting in Oshkosh, Wisconsin. "Learning with" (not "telling to") is her passion.
Food can be so simple, yet the issues around it are rather complex! What do you remember about your childhood kitchen table? Do you feel like picky eaters are dictating your menu? Has coming to the table become stepping into a power struggle? Do you wonder what messages kids may absorb about food as you cook and bake together? How are all these questions related? Join us for interactive explorations around the ideas of food, culture, rewards, responsibilities and power in early education programs.
1.5 hours of Registry Credit available.  WECA/FVCW Members attend all events for free; non-members pay just $5.00. Looking to join WECA? Here's how.
A brief business meeting will be held from 6:15-6:30, before the continuing education. All are welcome to attend and
see what's happening in FVCW! After the continuing education you are invited to tour the host center from 8:00-8:15pm.