Donate
We ask your financial support to continue the work we do with policymakers and other stakeholders to accelerate investment in quality early learning in Wisconsin.
Donate to WECA today
Make a donation in honor of someone special to you. Do you have a favorite preschool teacher or child care program that you're thankful for? Make a donation in their name—it's easy! Simply complete this donation form and enter your honoree's name in the "Donation made in honor of" box. Your name along with your honoree will be published in our Annual Report.
Join us to ensure high-quality early learning across the state.
Give today to support Wisconsin's children and families >>
Investments in Quality Early Childhood Education Delivers
Higher reading and math scores
Reduced special education
Higher high school graduation rates
Reduced teen pregnancy rates
Higher education or job readiness
Reduced welfare use
More employable, tax-paying citizens
Reduced drug use and abuse
Reduced criminality
Explore further. Watch This is Jack.
Your donation helps us foster quality improvement in the early learning workforce through:
Educational opportunity for child care professionals. Our T.E.A.C.H. Scholarship program enabled 1,600 child care providers to continue their education—through community colleges and 4-year colleges and universities.
Reducing turnover in the child care profession. Our REWARD program significantly reduces turnover in the child care field by acknowledging providers' continuing education and skill development with wage stipends. The child care provider turnover rate in Wisconsin overall is 21%. For participants in the REWARD program, turnover is 1%.

Other ways to support WECA
WECA is a proud member of Community Shares of Wisconsin (CSW).
Did you know that in Dane County, Wisconsin, your workplace donation through Community Shares and "Chipping" at the Willy Street Co-Op directly benefits WECA?  It may seem like small change, but the dollars really add up. Last year, the Community CHIP program raised over $225,000 to help CSW and allow them to support us and other member nonprofits. Thank you for your generous support!
Join us for the Big Share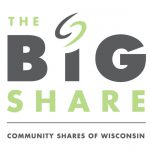 The Big Share is an online day of giving hosted by Community Shares of Wisconsin for nearly 70 local nonprofits dedicated to building an equitable and just community and protecting our environment. Together they envision a future where all voices are heard, where we all have clean water and air, where all neighbors have access to family-supporting jobs, and all communities in Wisconsin are safe and thriving.
The Big Share is a fun, easy and flexible way to donate to and to learn more about organizations that help our community.

Support us on Amazon Prime!
AmazonSmile is a simple and automatic way for you to support WECA every time you shop, at no cost to you. When you shop at smile.amazon.com, you'll find the exact same low prices, vast selection and convenient shopping experience as Amazon.com, with the added bonus that Amazon will donate a portion of the purchase price to Wisconsin Early Childhood. Select Wisconsin Early Childhood at your preferred charity on Amazon smile today!