Week of the Young Child 2021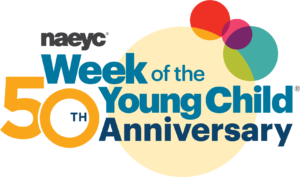 The Week of the Young Child® is an annual celebration sponsored by the National Association for the Education of Young Children (NAEYC), the world's largest early childhood education association, with nearly 60,000 members and a network of 51 Affiliates.  
The purpose of the Week of the Young Child® is to focus public attention on the needs of young children and their families and to recognize the early childhood programs and services that meet those needs. 
NAEYC first established the Week of the Young Child® in 1971, recognizing that the early childhood years (birth through age 8) lay the foundation for children's success in school and later life. The Week of the Young Child® is a time to plan how we—as citizens of a community, of a state, and of a nation—will better meet the needs of all young children and their families. 
Join us April 10-16, 2021 for a fun-filled week celebrating early learning, young children, their teachers, families, and communities.
 #WOYC21
 NAEYC writes, "While the COVID-19 pandemic has changed our lives in many ways, it hasn't changed the need to celebrate and support young children and the adults who love, care for, and educate them." 
Daily Giveaways! Participate in our social media shares for your chance to win books, CDs and more!
Be Prepared: How to Send WECA Photos of Your #WOYC Activities.

If you plan to send photos of children participating in any of the Week of the Young Child activities to WECA for any of the giveaways, you will need to fill out our WECA Photo and Video Release Form for Minor Children online. NOTE: You will only need to get permission when you plan to submit photos of children's faces. That way WECA will be able to share your adventures on our website and social media pages (Facebook, Instagram, Twitter). 
Once your child's parents completed the form, email your photos directly to Jennifer Hilgendorf, Digital Marketing Manager at jhilgendorf@wisconsinearlychildhood.org.
Please include the following information:
Name of Child (if using child's face in photos)

Name of center/program owner or administrator

Center or Program Name

Which day(s) you are celebrating
Disclaimer: By participating in this event and sharing video and/or photos, you are representing that you have written permission from each person in the video and/or photos, and if a child, written permission from the child's parent or legal guardian, to post the video and/or photos and use the likeness of such person therein.