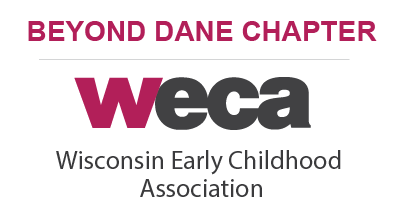 Beyond Dane Chapter of WECA
Mission
The purpose of the Beyond Dane Chapter of WECA is to serve and act on behalf of the needs, rights, and well-being of all young children by supporting the early childhood professionals of Dane County and beyond. We are committed to providing professional development opportunities that foster collaboration between early childhood programs, community, and practitioners and encourage advocacy for early childhood issues.
Watch the 2018 Tours and Training Highlight Video:
Newsletters
Leadership Structure
The Beyond Dane Chapter is run by an elected governing board of up to 12 members. Leaders are WECA members who live or work in Dane, Sauk and Columbia counties. WECA members are encouraged to nominate themselves and others to the governing board. All WECA members are welcome at board meetings and as committee participants.
2019 Elected Board Members
Jenee Jerome-President
Emmi Lohrentz-Vice President
Heidi Heller-Treasurer
Mary Catherine Green-Secretary
Members-at-Large
Abby Abrisham
Barb Schulz
Roxanne Etta
Jackie Anderson
Brianna Kurlinkus
Sue Schneider
Holly Storck-Post
Allison Kaplan
Open Leadership Positions
None
Strengthen advocacy for young children by serving on a committee or volunteer for a special event.
Enhance your professionalism by serving on the Governing Board.
Promote best practices, and support children's learning by networking with other early childhood professionals in Dane, Sauk, and Columbia county.
Have a question?  Want to learn more?  Ready to get involved? Complete the "Contact Us" form.