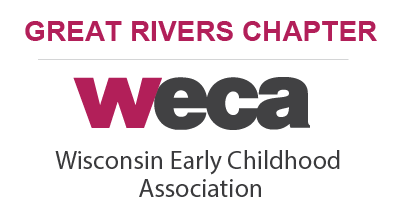 Great Rivers Chapter
Mission
The Great Rivers Chapter is an early childhood professional network whose mission is to serve and support members in the early childhood profession. Our chapter supports the greater La Crosse Area by providing professional development events to foster growth and networking with others in the field. We are committed to promoting high-quality early learning.
Leadership Structure
The Great River Chapter is run by a Leadership Council. Members become involved by becoming an elected board member or through general leadership participation. Leadership council members engage in a variety of tasks that support our events and meetings.
All WECA members may participate in our Leadership Council. Elected positions to the council are President, Vice President, Secretary, and Treasurer.
Elected Board Members
Kim Gorka: President
Jenny Ahlert: Secretary
Kim Amundson: Treasurer
Open Leadership Positions
We are currently seeking volunteers to join our Leadership Council. Contact us if you are interested.
How to get involved
Visit WECA's Chapter Calendar for current opportunities. Then, attend our next event! And while you're there–relax, have fun, and introduce yourself to other local early childhood professionals. This time is designed just for you!
Local WECA members are encouraged to nominate themselves and others to our Governing Board. Our Chapter depends on great volunteers like you.
Interested in getting involved? Seek out your local chapter's next leadership council meeting. Consider sharing your ideas and your skills. You can choose to do just as much as feels right to you.
Have a question? Want to learn more? Ready to get involved? Complete the "Contact Us" form.