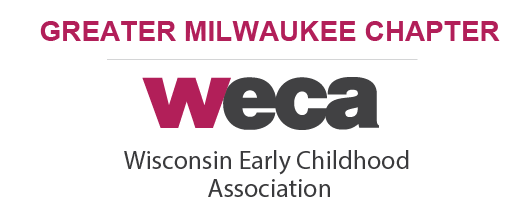 Greater Milwaukee Chapter of WECA
Mission
The Greater Milwaukee Chapter's mission is to provide high quality professional development, including opportunities for professional outreach and networking for early childhood educators in the greater Milwaukee area.
Leadership Structure
The Greater Milwaukee Chapter is run by a Leadership Council–local WECA members volunteering to help plan and implement our great activities.  The Council is led by the Executive Committee, consisting of a President, Secretary and Treasurer.  All local WECA members are encouraged to attend our leadership meetings and become involved.  During Leadership Council meetings, participants connect with one another, plan events and enjoy a great meal!
Executive Committee
Michelle Sorce: President
Catherine Roach: Treasurer
Jennifer Fremgen: Secretary
Open Leadership Positions
 We are currently seeking volunteers to join our Leadership Council. Contact us if you are interested.
How to get involved
Visit WECA's Chapter Calendar for current opportunities. Then, attend our next event! And while you're there–relax, have fun, and introduce yourself to other local early childhood professionals. This time is designed just for you!
Greater Milwaukee Chapter invites all our local members to participate in the planning process for our events. We're a fully volunteer organization, and we would love your participation in our planning and to help run our events. Please join us at our next Leadership Council meeting!
Contact a member of the Executive Committee of the Leadership Council, or approach them at a professional development event. Let's connect! 
Local WECA members are encouraged to volunteer to serve on our Executive Board. Our Chapter depends on volunteers like you to do the great work that we do!
Have a question? Want to learn more? Ready to get involved? Complete the "Contact Us" form.