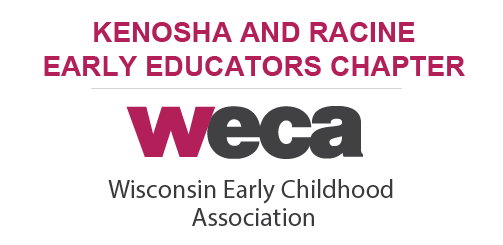 Kenosha and Racine Early Educators (KARE) Chapter
Mission
Our mission is to inspire Kenosha and Racine Early Educators to strive for excellence.
Like their Facebook page.
Leadership Structure
KARE Chapter of WECA is governed by a Leadership Council with two components:
Executive Leadership: All leaders are considered equal, as they oversee management of the KARE chapter.
Members at Large: Help to execute events, activities, and lead support groups; assist with engaging other WECA members.
We hold a major spring and fall membership event each year.
We operate support groups for directors/administrators, and family child care providers. Coming soon: a center staff support group.
Executive Leadership
April Orth: Treasurer
Patti Robinson
Jamie Forsythe
Lannan Christensen
Mary Stoner
Kris Cresco
Members-at-large
Shawn Wolf, Kenosha Library System + STEAM Coordinator
Lisa Langsdorf, Kenosha Library System
Open Leadership Positions
We are currently seeking volunteers to join our Leadership Council, and to lead a center staff support group. Contact us if you are interested.
How to get involved
Five ways WECA Members can become involved in KARE's Leadership:
Attend and contribute at board meetings.
Help plan, implement and attend KARE events.
Actively recruit new WECA members and help retain current WECA members.
Become part of the Leadership Council; contributing time and skill to inspire others in the Early Childhood profession.
Attend support group meetings (Directors/Administrators or Family Child Care). Consider helping start a third group focused on center staff.
 Have a question? Want to learn more? Ready to get involved? Complete the "Contact Us" form.