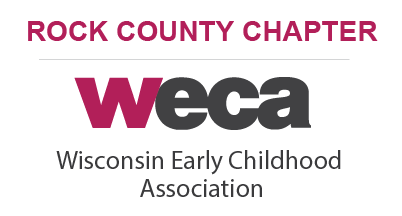 Rock County Chapter
Mission
The Rock County Chapter's mission is to serve and support our members in the early childhood education profession by providing local events which include quality professional development and networking.
Leadership Structure
Rock County Chapter of WECA welcomes all local WECA members into our Leadership Council. All members at a leadership meeting may participate in the meeting's decision-making.
Becoming a member of the Leadership Council: Members become a "Rock County Chapter Leader" by completing a skills and availability survey (renewed each September).
Rock County Chapter Leaders agree to:
Follow NAEYC's mission, vision and ethical standards
Help plan, implement and attend Rock County Chapter events
Attend leadership meetings
Be ambassadors of WECA
Be listed on the Rock County Chapter webpage.
Our group elects one Leadership Council position—Treasurer.
Leadership Council
Sue Schimke
Michelle Weirich (Treasurer)
Open Leadership Positions
We are currently seeking volunteers to join our Leadership Council.  Contact us if you are interested.
Visit WECA's Chapter Calendar for current opportunities. Then, attend our next event! And while you're there–relax, have fun, and introduce yourself to other local early childhood professionals. This time is designed just for you!
Interested in getting involved? Seek out your local chapter's next leadership council meeting. Consider sharing your ideas and your skills. You can choose to do just as much as feels right to you.
Have a question? Want to learn more? Ready to get involved? Complete the "Contact Us" form.