Information for Parents
What's for lunch? (and breakfast, snacks, and dinner)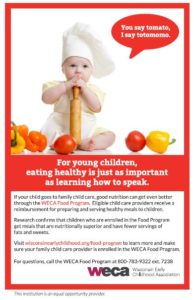 If your child attends family child care it pays to know about the WECA Food Program. Funded and designed by the USDA, the Food Program ensures that young children in child care get meals that are nutritionally superior and have fewer servings of fats and sweets. Child care providers who enroll in this free program get nutritional education and financial reimbursements for preparing and serving healthy meals to children.
As a parent, you can be assured that your child is eating well when away from home – which is so important for growth and optimal development.
Download the WECA Food Program Flyer to give to other parents.
The next time you bring your child to child care:
Ask your provider if he or she participates in a food program. (WECA is the largest of 6 programs in Wisconsin and the only program to be offered in ALL counties.)
Share the WECA Food Program information flyer with your child's provider.
Contact us if you'd like to know more!
Phone: 608-240-9880
email: foodprogram@wisconsinearlychildhood.org