Getting started with REWARD!
The REWARD Stipend Program provides salary supplements to eligible child care professionals. Individuals must meet all eligibilities to participate. If a person is found to be eligible, a stipend will be awarded along with a 6-month agreement. The stipend amount corresponds to the individual's Registry Level, as shown below. The stipend agreement is a 6-month contract to continue to meet program eligibilities. Once that agreement ends, the individual can reapply as long as eligibilities continue to be met.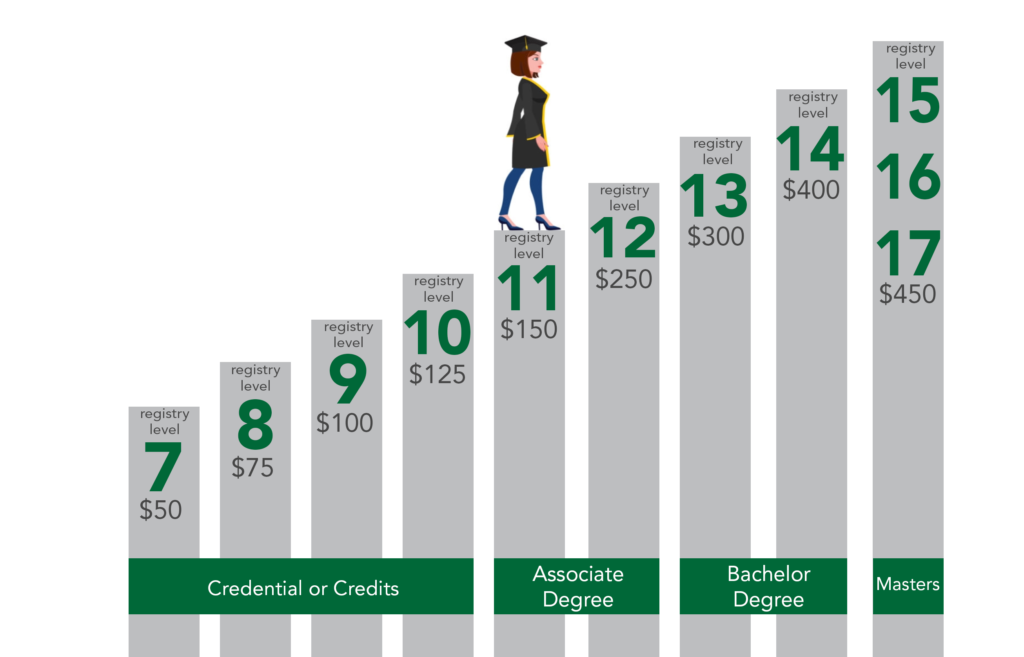 *Stipends are awarded as funding allows.
Earning a REWARD stipend
To be eligible for a REWARD Wisconsin Stipend, an individual must meet the following employment, experience, and education requirements:
Employment Requirements:
Employed by a group child care program that is licensed and/or participating in YoungStar OR in a licensed or certified family child care program
Work at least 20 hours per week
Work at least 5% of their time in an early childhood classroom, either directly with children or in supervision and support of staff
Live and/or work in the state of Wisconsin
Earn $16.50 an hour or less
 Experience Requirements:
Have worked at your present employer for 3 current and continuous years
OR
Have 6 years of experience in regulated child care programs as documented by the Registry.
Education Requirements
Registry Level 7 or above on The Registry
Participants at Registry Level 7, 8, 9, and 10 must complete 3 ECE credits over the course of two 6-month agreements to continue participating in REWARD. Download full details here. Participants at Registry Level 11 or above do not need to meet this requirement.
Ready to Apply?
Choose the application that matches your work setting: