WECA 2021 Annual Report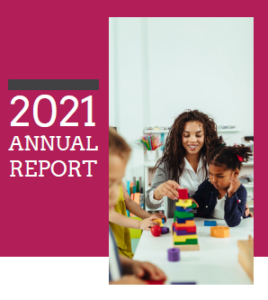 Take a moment with me to envision, together, a Wisconsin and United States where early care and education (ECE) is viewed as a public good worthy of long-term, sweeping and sustained public funding.
It is a vision where our child care system supports children and families, child care professionals, communities, businesses and the economy.
In this vision, early childhood educators are compensated at a level that matches their education, experience and dedication.
In this vision, child care is affordable for all families of young children.
In this vision, child care deserts are rare – or, better yet, do not exist.
In this vision, businesses have employees who do not struggle with child care challenges.
In this vision, communities and the economy flourish.
In this vision, an unprecedented health crisis would not have exacerbated longstanding challenges. Instead, the child care landscape would be built with resources to ensure it meets the needs of all those impacted by it – no matter the social, health, political or economic circumstances.
This vision guides the Wisconsin Early Childhood Association's continued advocacy efforts and our steadfast support of early childhood professionals who are the backbone of high-quality child care for our children.
Download our 2021 Annual Report today. Print copies are available upon request.