WECA 2020 Annual Report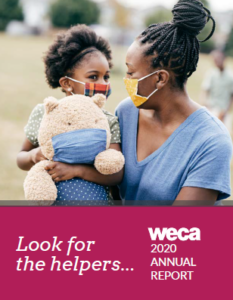 In a year full of scary things, namely a global pandemic, early childhood educators have continued to not just be the helpers, but also the leaders. COVID-19 placed an already fragile, already stressed to the breaking point, child care system, front and center in our state's and our nation's ability to respond. Within days of cases hitting the US, our school buildings closed and child care, long relied on to allow essential workers (and all workers with young children) to do essential work, was urged to remain open despite declining enrollments, declining revenues, and lack of personal protective equipment. A system surviving on razor thin margins, and a workforce of women earning poverty level wages, responded as we knew it would: with resolute drive and resiliency.
Interested in learning more about what we accomplished in 2020? Download our 2020 Annual Report today. Print copies are available upon request.