WECA 2022 Annual Report | Informe anual 2022 de WECA
Wisconsin Early Childhood Association is pleased to announce the release of its 2022 Annual Report, which highlights the organization's extensive impact, influence, and work on behalf of early care and education, children, families, and communities across the state.
In a newly reimagined format, the report begins with reflections from WECA Executive Director Ruth Schmidt and is followed by a narrative on WECA's 2022 work to advance early childhood workforce supports, advocacy, coalition building, professional development, membership, training, food systems, and nutrition. It includes first-hand perspectives from various providers and partners in addition to WECA-wide and program-level data and impact highlights.
The report, which is available in both English and Spanish for the first time, also is an opportunity to thank WECA's generous donors who help support and enrich the organization's mission.
"We are honored to do this work because it challenges us, invigorates us, and pushes us to achieve new milestones every day," Schmidt writes in her message. "At our core, we know our support of early childhood educators and the early childhood field directly influences the developing minds of thousands of Wisconsin's young children on
their paths to positive futures."
______________________________________________________________________________________________________________________________________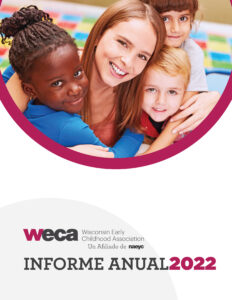 Wisconsin Early Childhood Association se complace en anunciar la publicación de su Informe Anual 2022, que destaca el amplio impacto, la influencia y el trabajo de la organización en nombre del cuidado y la educación de la primera infancia, los/as niños/as, las familias y las comunidades de todo el estado.
En un formato renovado recientemente, el informe comienza con las reflexiones de la directora ejecutiva de WECA, Ruth Schmidt, continuando con una descripción sobre el trabajo de WECA en 2022 para promover el apoyo a la fuerza laboral de la primera infancia, la abogacía, la creación de coaliciones, el desarrollo profesional, la membresía, la capacitación, los sistemas de alimentación y nutrición. También, incluye perspectivas de varios proveedores y socios, además de datos e impactos que se destacaron a nivel de los programas y de WECA.
El informe, que está disponible en inglés y español por primera vez, también es una oportunidad para agradecer a los generosos donantes de WECA que ayudan a enriquecer la misión de la organización.
"Nos sentimos honrados de hacer este trabajo porque nos desafía, nos fortalece y nos empuja a lograr nuevas metas todos los días", escribe Schmidt en su mensaje. "En esencia, sabemos que nuestro apoyo a los educadores de la primera infancia y al campo de la primera infancia influye directamente en las mentes en desarrollo de miles de niños/as pequeños/as de Wisconsin en sus caminos hacia futuros positivos".