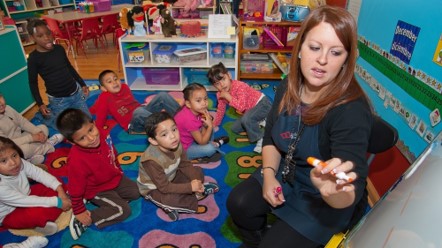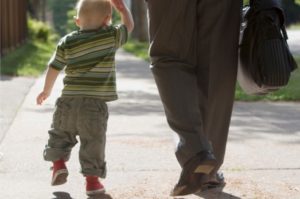 The Child Care Problem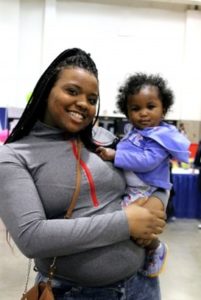 Across the nation, the child care market is failing. In today's society, to achieve a middle-class income, both parents need to work. More than 40,000 Dane County, WI families require child care in order to work. Not only is it extremely difficult to find child care; it's expensive. In fact, child care is the single largest expense for working families, costing more than housing, transportation or health care.
Why is this happening?
The child care market is also failing the very workforce that care for our children. According to the Early Childhood Workforce Index 2018, the median wage for a Kindergarten through 12th grade teacher in Wisconsin is $31.74/hr.  For a preschool teacher, it's $11.48/hr. This results in early childhood teachers leaving the field at alarming rates. And, too often, child care programs operating on razor thin margins are unable to make ends meet and cannot keep their doors open. This, undercuts supply even further and leaves families with fewer options for care. The shortage of quality child care keeps parents from working and earning more income, while employers are unable to retain reliable staff. This is especially true for women, who cannot work due to a lack of affordable child care.
Initiatives aimed at solving only one problem in the child care system can create or exacerbate other problems.
An Innovative Solution
We Care for Dane Kids is an innovative solution to a complex community problem. The initiative advances a series of four interlocking strategies designed to address the supply and demand of child care to benefit working families, child care and out-of-school time programs, and employers within Dane County and beyond.
| | |
| --- | --- |
| | Strategy 1: Dependent Care Flexible Spending Accounts will help working parents afford child care by working with employers to increase use of IRS Section 125 Dependent Care Tax Assistance plans. Additionally, we are seeking an IRS Private Letter Ruling so that employers can make 401(k) contributions matched against employee child care payments. This strategy will help 5,000 families save up to $3,600 annually and 10,000 families save up to $2,400 per year for a total of up to $42 million annually. Watch this video from TASC that explains Flexible Spending Accounts.  |
| | Strategy 2: Shared Services will capitalize on efficiencies of scale by creating a network of 25 family-based and 15 center- based child care programs. The network will provide members with technology-driven back office administrative tools, a shared substitute teaching pool, discounted joint purchasing, and collaborative professional development. With shared services, We Care will make the system stronger, more accountable, more financially sound and efficient, and better equipped to offer affordable, high-quality services for children and their families. Programs will realize cost savings of 30% annually. |
| | Strategy 3: Expand Use of the Wisconsin Child Care Subsidy. Wisconsin's subsidy program does not have a waiting list, but most eligible families fail to take advantage of the benefit, leaving money on the table. We Care will use racially diverse and bilingual outreach workers in communities to help families apply for and maintain the subsidy, eliminating the need for parents to take time off work and navigate a complicated application system. This strategy will provide each eligible family with approximately $12,000 annually to pay for child care. Additionally, when children are in dependable child care, these parents can work and earn more. |
| | Strategy 4: Boost Wages of Care Workers by 10%. Using both philanthropic resources and policy changes, We Care will work to advance public and private investments to increase compensation for qualified care workers. Greater investments in programs and higher wages for care workers will reduce turnover, increase child care capacity, and improve the quality of care for children. This could save child care programs $4 million in turnover costs annually and will create $11 million for increased wages. |
Partners
Wisconsin Early Childhood Association
Ruth Schmidt, Executive Director
Paula Drew, WEESSN-Dane County Project Manager


Kelly Hook, Director of Donor and Partner Engagement

Reach Dane
Jen Bailey, Executive Director

Madison Out-of-School Time
Nathan Beck, Coordinator

Satellite Family Child Care
Dr. Amy Christianson, Director

City of Madison


Coral Manning

,

Early Care and Education Manager

Total Administrative Services Corporation (TASC)
Dan Rashke, CEO/Owner

University of Wisconsin–Madison

Dr. Katherine Magnuson, Vilas Distinguished Achievement Professor of Social Work
Dr. Laura Dresser, Assistant Clinical Professor, School of Social Work; Assoc. Director of COWS
Key Stakeholders and Funders
We Care for Dane Kids serves as a catalyst for stabilizing the child care and out-of-school time market for working families, child care programs, and employers within Dane County and beyond. What's more, this initiative will elevate the quality of care for our children who deserve high quality, safe, responsive, and stimulating learning environments while their parents are at work.
We Care for Dane Kids was inspired by Schmidt Futures' The Alliance for the American Dream Challenge and has been embraced by the local community. This work would not be possible without the generous support of our partners, funders, and stakeholders alike. If you're interested in joining this movement, please donate today.
American Family Insurance
CUNA Mutual Foundation
Dan & Patti Rashke (TASC) Family Foundation
DreamUP Wisconsin
Endres Manufacturing Company Foundation
Evjue Foundation, a charitable arm of The Capital Times
Foley & Lardner LLP
Madison Community Foundation
M3 Insurance
MGE Foundation
NeuGen
The QTI Group
Schlecht Family Foundation
Schmidt Futures
State Bank of Cross Plains
Summit Credit Union
University of Wisconsin-Madison