Training Opportunities
We offer training and professional development opportunities on a variety of relevant topics for early childhood professionals, some of which offer Wisconsin Registry credit.
Bookmark this page for easy access to our training calendar!

WEESSN Training Opportunities
Wisconsin Early Education Shared Services Network (WEESSN) provides a wide range of trainings on a variety of topics for early childhood programs.
Check out the training schedule for the complete list of training topics and dates. Want to get access to these valuable opportunities? All you need to do is sign up for WEESSN – it's truly free. No hidden catch.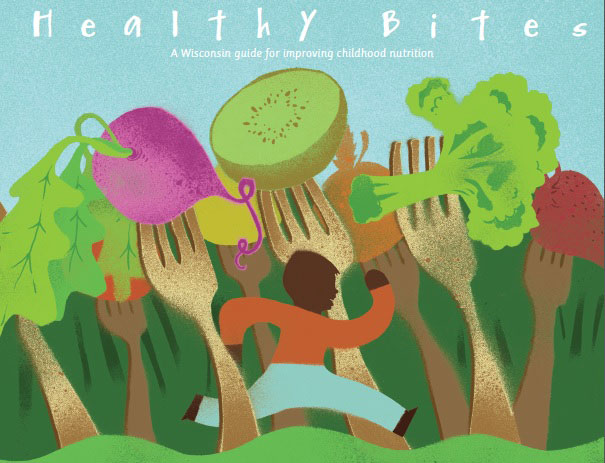 Healthy Bites: A Wisconsin Guide for Improving Childhood Nutrition
The Healthy Bites on-line tutorial covers five primary priorities for improving child nutrition in your program: writing a nutrition policy, nutrition for infants and children, supporting healthy eating and planning healthy meals. This tutorial offers concepts and practical applications to enhance the nutrition quality of your early childhood education program, with the primary focus on setting nutrition program goals and implementing best nutrition practices relating to the quality of meals served, the nutrition environment and parent outreach.  This tutorial will initiate a change in the way you think about nutrition in a child care setting.  This is a Tier 2 training which will provide eight hours of Registry credit. Questions, email training@wisconsinearlychildhood.org
Free Online Training: Active Early: A Wisconsin Guide for Improving Childhood Physical Activity
This training welcomes all early care and education professionals to explore researched-based practices and strategies designed to reduce obesity rates of children in Wisconsin. The Active Early Guide is designed to help early care and education professionals address childhood obesity by improving the physical activity environment in early care and education. The Active Early Guide contains valuable information to enhance the physical activity environment for early care and education programs. Embedded in this training are handouts, helpful tips and tools, and visual supports to enhance your interactive learning experience.  This is a Tier 2 training which will provide five hours of Registry credit.  Questions: training@wisconsinearlychildhood.org