Wisconsin Early Education Shared Services Network
By streamlining regulation compliance, business practices, purchasing, and program logistics, we can make the lives of child care providers easier and support them in this important work.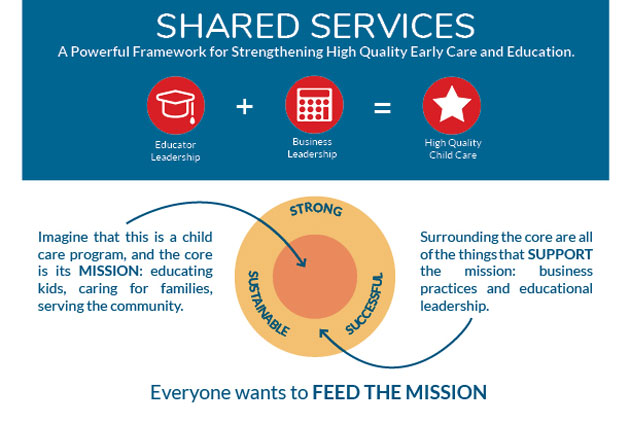 But nobody should be expected to excel at both MISSION and all things that SUPPORT the mission.
BUSINESS LEADERSHIP

compliance with licensing and QRIS
payroll
scheduling
human resource administration
marketing

EDUCATOR LEADERSHIP

documentation and observation
meaningful curriculum planning
personalized professional development pathways
growing program leadership capacity
One solution is to POOL needs with the other programs, who meet those needs TOGETHER.

When programs share staff and tasks, more time, money and emotional energy is available to FEED THE MISSION.
 What do we gain? Capacity
THROUGH SCALE: Lower costs via joint purchasing of goods and services, and sharing tools and resources across many sites.
THROUGH SPECIALIZATION:

Better results from skilled staff, more focused on shared fiscal and program leadership.
We are mission-driven to create positive systems change that impacts both the early childhood workforce and the young children of Wisconsin.
Graphics used with permission by The Opportunities Exchange.
This project is funded in part by the Advancing a Healthier Wisconsin Endowment at the Medical College of Wisconsin.