The REWARD Wisconsin Stipend Program provides vital supplemental financial support to early childhood educators who continue to work in an under-compensated and under-resourced field. The program annually facilitates the distribution of thousands of stipends to early childhood educators throughout Wisconsin with the goal of increasing compensation, improving the retention of early childhood educators, and encouraging continued education in the field.
Please review all three tabs below to see if you may be eligible for REWARD
(Education, Employment Longevity, and Other Employment Requirements).
Registry Level 1 through 17
Worked at least 6 months in the early childhood field, either at your current employment or at other regulated child care programs. Employment should be reflected on your Registry Personal Profile.
Employed by a group child care program that is licensed and/or participating in YoungStar; OR, in a licensed or certified family child care program
Work at least 20 hours/week
Work at least 5% of your time in an early childhood classroom, either directly with children or in supervision and support of staff
Work at a program that operates year-round or school-year
Live and/or work in the state of Wisconsin
Stipend Amounts Awarded Every 6 Months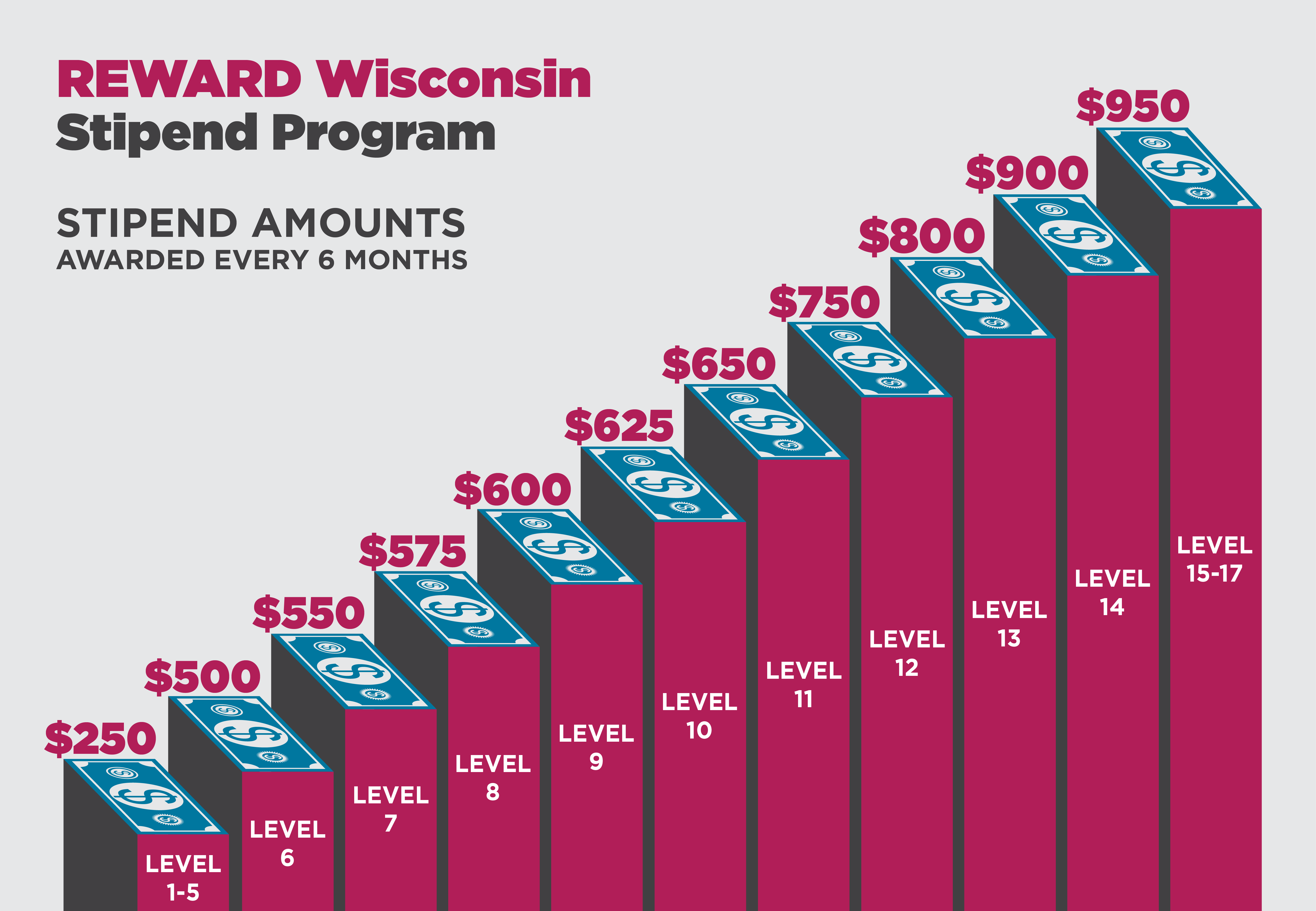 Ready to apply for the REWARD Wisconsin Stipend Program?
Use our online form - it is an efficient way to submit your REWARD application.
Ready to apply for the City of Milwaukee Early Childhood Workforce Stipend Program?
A new stipend program is available for individuals who work in child care programs located in the city of Milwaukee. Eligible applicants who work in caregiving roles will receive a $1,500 stipend in three installments.
Do you have questions?
We have the answers to your most commonly asked REWARD questions.
Wisconsin Early Educators
of recipients remain employed in Wisconsin's ECE field.
Note: Stipend recipient/amount data since summer 2022 expansion.
Connect
Email: reward@wisconsinearlychildhood.org
p: 608-240-9880 | f: 877-895-5477
Chat: Talk with REWARD staff during regular business hours. Use the chat window in the lower right of your browser!
This program is funded by the Wisconsin Department of Children and Families.