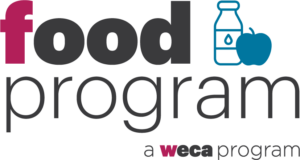 Claims & Payments
Reimbursement for child care meals and snacks is based on a two-tiered system determined by the United States Department of Agriculture. When you enroll in the Food Program, WECA staff will help determine your qualifying tier. Tier I rates are assigned to low-income areas, providers, or children.
Current* rates are:
*Effective July 1, 2022, through June 30, 2023.
Payment Calculator
You can use this calculator to determine your estimated claim reimbursement amount.
Are you a licensed or certified family child care provider?

In Wisconsin, you must be licensed or certified to participate in the Food Program.

Please enter the total number of children in your care at a given time:

Check the meals you serve:

Food Program can only pay 2 meals and 1 snack or 2 snacks and 1 meal per child each day.

Please enter the total number of days each month you care for children:

Your estimated monthly claim reimbursement (Tier 1*)

Your estimated monthly claim reimbursement (Tier 2*)

*Your tier level, which determines payment amount, will be determined once you enroll.
To Receive Reimbursement
To get reimbursed through the Food Program, you must document daily the foods you bought and served children in your care. There are two ways to do this:
CACFP.Net:
recognizes you and loads your data, including currently enrolled children.
features an exclusive business module designed to meet YoungStar requirements.
lets you pre-enroll new children and assigns them an available ID number.
allows you print or view your monthly claim summary.
features tools like Meal Planning and Shopping List.
gives you the opportunity to print or view your annual Food Program earnings for tax purposes.
 Remember: the 5th of Every Month
The deadline for submitting your information is the 5th of the month following the claim. Example: to get paid for the month of October, submit your information no later than November 5th.