Recently, 50 early childhood teachers across the country traveled to historic Philadelphia for the 2019 Terri Lynne Lokoff Children's TYLENOL®, Children's ZYRTEC® National Child Care Teacher Awards. Since 1994, The Terri Lynne Lokoff Child Care Foundation proudly recognizes the critical work child care teachers provide to children and acknowledges the need to elevate this workforce as the key to quality child care.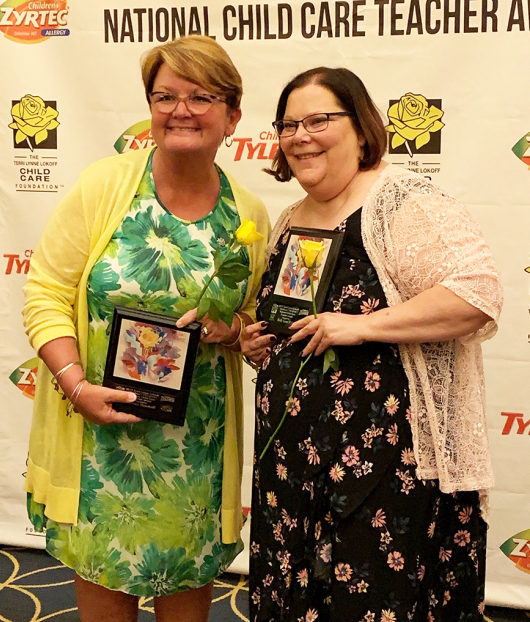 This year, we're honored to share that not one but two early childhood teachers from Wisconsin were recognized. Tammy Dannhoff, owner of Kids Are Us Family Child Care and Holly Hale, owner of Little Red Wagon Childcare received $500 for their own personal use and an additional $500 to implement a classroom enhancement project for their programs.
Tammy, who's enhancement project involves building an outdoor water play and discover station, was also in the running for The Helen Marks Award, which brings the honor of being named the National Child Care Teacher of the Year.
"It meant so much, first and foremost, that I was be able to stand with other professional childcare providers and be recognized for a profession that is not recognized very often," Tammy shared. "It is wonderful that The Terri Lynne Lokoff Child Care Foundation provides this recognition to providers from around the country. While I wasn't chosen as the Teacher of the Year, being picked overall and as one of the top 11 teachers was an honor. It was an amazing experience!  Out of the 50 early childhood teachers recognized, ten were family childcare providers, which made it extra special."
Holly, another family childcare provider, appreciated the fun-filled weekend celebration which included a welcome reception, tours, meals, networking and the awards dinner. Hotel and transportation were also provided.
"This past weekend was amazing," Holly said.  "From the minute I stepped into the limo at the airport until I boarded the plane for home, I felt like royalty.  This weekend inspired me to continue in my profession and to keep advocating for our children and the providers.  The connections that I made will hopefully last a lifetime.  Being an early childhood teacher can be so isolating, but with the support of the others at the ceremony, I know there is always someone to talk to.  Thank you to the Lokoff family and to all of those who were part of this amazing weekend.  I get happy tears just thinking about it!"
Holly's enhancement project will involve creating a natural outdoor play area. She will be adding a waterfall table, wooden bridge and balancing logs to her program.
When asked what advice they would give to the next generation of early childhood educators coming into the field, both Tammy and Holly shared the following:
"Education is so important," Holly added. "It will help a caring early childhood teacher understand what best practice is and how to implement it.  Continuing your education has also helped me understand the importance of advocating for our profession by being involved in other organizations, by helping others in the field, and advocating with our government."
"First and foremost, always keep learning," Tammy agreed.  "Get involved in the early childhood field; there is so much going on!  Reach out to other family childcare providers if you feel lonely. Don't be afraid to ask questions – from your licensor to your colleagues, to presenters at trainings – if you are wondering, ask why."
Congratulations again to Tammy and Holly for this amazing achievement.
Why not apply next year?
Are you interested in applying next year for the 2020 Terri Lynne Lokoff Children's TYLENOL®, Children's ZYRTEC® National Child Care Teacher Awards? Learn more about the application process on their website.