by: Grace Reef, Senior Outreach Consultant at Committee for Economic Development (CED)
The good news is that the President and Congress are talking about large investments in child care and preschool. Families have long struggled with the cost of child care. Therefore, it's good to see interest from the Administration and Congress to address affordability for families. The American Families Plan, as proposed by the President, would invest $225 billion to make child care more affordable and to improve the quality of child care over the next 10 years.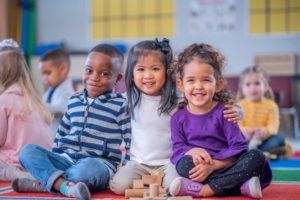 The American Families Plan also includes an expansion of free preschool for 3- and 4-year old children – an investment of $200 billion over 10 years to offer families with preschool-age children an opportunity (if they wish) for their children to participate in preschool. This is also good news for parents and children. At the same time, depending upon the details related to how an expansion of preschool (also referred to as public pre-k) is structured, expanding one public good (preschool) could potentially put another public good (child care) out of business.  That's why the details matter related to how the legislation is drafted.
The President's American Families Plan is really a vision – at this point, it is not legislative language (a bill).  There are several bills that have been introduced in Congress that also call for significant increases in child care funding and an expansion of public preschool.
The Child Care for Working Families Act, introduced in the Senate by Senator Patty Murray (D-WA), 1360, and in the House by Representative Bobby Scott (D-VA), H.R. 2817
The Universal Child Care and Early Learning Act, introduced by Senator Elizabeth Warren (D-MA), S 1398, and Representative Mondaire Jones (D-NY), R. 2886
Representative Richard Neal (D-MA), Chairman of the House Ways & Means Committee, and Senator Ron Wyden (D-OR), Chairman of the Senate Finance Committee are expected to introduce legislation soon.
Child care is a business (whether it is a center-based or home-based program). The economics of running a viable business depends on the enrollment of 3- and 4-year old children because it is the payments for preschool-age children that help underwrite the cost of infant and toddler care (i.e., make it less expensive for the parents of infants and toddlers). The reality is that care for infants and toddlers is more expensive because more adults are needed in the program to promote the safety of the children as well as their healthy development. Infants and toddlers need more hands-on help in every aspect of their care. If an expansion of public pre-k occurs through public schools, it is likely that many child care programs will no longer be able to operate a viable business.
Pending Congressional bills mention a mixed-delivery model for preschool, which means that in theory, there could be options in communities for the delivery of public preschool (e.g., through child care programs, Head Start, or public school settings). However, there is no requirement for mixed delivery in the pending bills. And, there is no requirement that within communities, all stakeholders meet to first look at child care capacity to see if current child care programs could be utilized to offer public pre-k (e.g., receive contracts to support the wages needed for teachers, the delivery of a curriculum, ongoing child assessments, and materials).
Wisconsin has many high-quality child care programs – located in child care centers and family child care homes.  Currently, funding for Wisconsin's 4K program is distributed to public schools, which may subcontract and collaborate with private child-care centers, community-based programs, faith-based centers, family child care providers, or Head Start agencies. Most 4K programs operate part-day. Part-day, as working parents know, doesn't meet their needs. Part-day, as many studies show, has less of an impact on child outcomes.
At this point, Members of Congress in the House and Senate need to hear from child care providers about the potential impact of an expansion of public pre-k without a requirement for mixed-delivery in community-based settings. No legislative language has yet been agreed to, therefore, there is time to still shape what any preschool expansion will look like. You can look up the contact information for your Senators here. You can look up the contact information for your member in the House of Representatives here.
Child care is a business. High-quality child care programs (center-based or home-based) should be considered as a first priority setting in any national preschool expansion effort. Working parents and children depend on it.