Chanel Clark, WEESSN Manager of Operations
In a recent and heartening development, Wisconsin Gov. Tony Evers announced he is directing $170 million to support child care programs. He reiterated this exciting news with us in person at the WECA Conference on Friday, Oct. 20 during a surprise lunch visit. This funding secures the continuity of the Child Care Counts Stabilization Payment Program through June 2025. While these funds may not match previous levels, they respond to the urgent need in our state. This pivotal support is a lifeline but with a deadline. It demands significant action on the part of child care providers to ensure the financial sustainability of their programs. It is a call for child care providers to enhance their systems, seek guidance, and initiate crucial changes in their programs.  
Child care providers are the unsung heroes of our communities. You nurture the next generation and enable parents to work, contributing in immeasurable ways to society and the economy. This is in the midst of a challenging early childhood business model, with razor-thin margins and administrative complexity that requires diligent fiscal management. The Child Care Counts Stabilization Payment Program, while a temporary reprieve from the funding cliff, does not relieve providers of the responsibility to track, analyze, and use financial data to achieve sustainable, quality programming.  
In the early childhood field, the "Iron Triangle," introduced by Louise Stoney, serves as a guiding light for child care programs to balance their budgets effectively. This triangle comprises three vital aspects: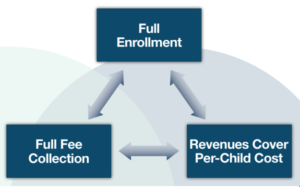 Rates

: These are the prices parents pay for child care or the reimbursements received from the government. Rates profoundly impact child care finances, and taking careful action to analyze the data can provide valuable insights for improvement.

Enrollment

: Higher enrollment means more income, and actively managing enrollment data can unearth growth opportunities.

Fee Collection

: Timely and accurate fee collection ensures providers can pay themselves, their staff, and other business expenses. Attentive data analysis can highlight areas for enhancement in fee collection processes, and technology offers many options.

 
Wisconsin Early Childhood Association has significant resources to help support the sustainability of child care businesses, including coaching available through Wisconsin Early Education Shared Services Network (WEESSN). WEESSN coaches and valuable shared services tools can be instrumental partners in empowering providers' journey to success. WEESSN asks critical questions with curiosity and without judgement, suggests changes to policies and systems based on previous professional experience, and offers data insights needed to act in balancing rates, increasing enrollment, optimizing fee collection, and ensuring the long-term strength of child care businesses. 
Child care providers – group programs, family child care providers, and early childhood teachers – are the heart and soul of child care operations. They play an essential role in nurturing children and helping them grow. With the extended funding, WEESSN supports can assist you in increasing staff wages to attract and retain talented individuals. WEESSN offers telemedicine and an Educator Assistance Program (EAP) to enrolled programs, along with access to Affordable Care Act navigators through Covering Wisconsin. WEESSN coaches are happy to support providers in budgeting for and accessing other staff benefits and in creating and implementing a salary scale that rewards teacher talent and incentivizes retention.   
Child care providers have a dual role – providing exceptional care and running businesses that need to thrive. Providers cannot dwell in the immediate yet temporary relief this extended funding offers. This moment represents a time to take compassionate yet business-focused action in striking that balance. WEESSN and child care providers are poised to actively use this time to make changes that ensure business sustainability and thereby secure a brighter future for Wisconsin's youngest children. 
To learn more about WEESSN and its services, visit our website. 
———————————————————————-
Chanel Clark, Gerente de Operaciones de WEESSN
En un desarrollo reciente y alentador, Tony Evers gobernador de Wisconsin anunció que está dirigiendo $170 millones para apoyar los programas de cuidado infantil. El reiteró esta emocionante noticia con nosotros en persona en la Conferencia WECA el viernes 20 de octubre durante una visita sorpresa a la hora del almuerzo. Esta financiación asegura la continuidad del programa de estabilización de pagos Child Care Counts hasta junio de 2025. Aunque estos fondos no pueden igualar los niveles anteriores, responden a la necesidad urgente en nuestro estado. Este apoyo fundamental es un apoyo, pero con una fecha limitada. Exige una acción significativa por parte de los proveedores y proveedoras de cuidado infantil para garantizar la sostenibilidad financiera de sus programas. Es un llamado para que los proveedores y proveedoras de cuidado infantil mejoren sus sistemas, busquen orientación e inicien cambios cruciales en sus programas.   
Los proveedores y las proveedoras de cuidado infantil son héroes anónimos/as de nuestras comunidades. Ustedes nutren a la próxima generación y ofrecen un apoyo a las familias para que puedan trabajar contribuyendo de manera inconmensurable a la sociedad y a la economía. Todo ello en medio de un modelo de negocio para la primera infancia que supone todo un reto, con márgenes estrechos y una complejidad administrativa que exige una gestión fiscal diligente. El programa de estabilización de pagos Child Care Counts, aunque es un respiro temporal del precipicio de la financiación, no exime a los/as proveedores/as de la responsabilidad de realizar un seguimiento, analizar y utilizar los datos financieros para lograr una programación sostenible y de calidad.   
En el ámbito de la primera infancia, el "Triángulo de Hierro", presentado por Louise Stoney, sirve de guía para que los programas de cuidado infantil equilibren sus presupuestos de forma eficaz. Este triángulo comprende tres aspectos vitales: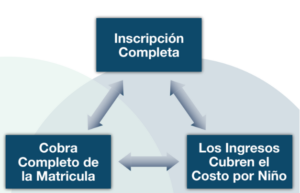 Tarifas

: Son los precios que las familias pagan por el cuidado infantil o los reembolsos que reciben del gobierno. Las tarifas tienen un profundo impacto en las finanzas de los programas de cuidado infantil, y analizar los datos con detenimiento puede aportar valiosas ideas para mejorar.

 

Matriculación:

Un mayor número de inscripciones significa más ingresos, y la gestión activa de los datos de inscripción puede mostrar oportunidades de crecimiento.

Cobro de cuotas:

El cobro puntual y preciso de las cuotas garantiza que los/as proveedores/as puedan pagarse a sí mismos/as, a su personal y otros gastos empresariales. Un análisis atento de los datos puede poner de manifiesto áreas de mejora en los procesos de cobro de cuotas, y la tecnología ofrece muchas opciones.

 
Wisconsin Early Childhood Association cuenta con importantes recursos para ayudar a apoyar la sostenibilidad de los negocios de cuidado infantil, incluyendo la asesoría disponible a través de Wisconsin Early Education Shared Services Network (WEESSN). Los/as asesores/as de WEESSN y valiosas herramientas de servicios compartidos pueden ser socios instrumentales en la potenciación de los proveedores y las proveedoras en su camino hacia el éxito. WEESSN hace preguntas críticas con curiosidad y sin juzgar, sugiere cambios en las políticas y los sistemas basados en la experiencia profesional previa y ofrece los datos necesarios para actuar en el equilibrio de las tasas, el aumento de la matrícula, la optimización de la recaudación de tasas y la garantía de la solidez a largo plazo de las empresas de cuidado infantil. 
Los/as proveedores/as de servicios de cuidado infantil -programas de grupo, proveedores y proveedoras de cuidado infantil familiar y maestros/as de educación infantil- son el corazón y el alma de las operaciones de cuidado infantil. Desempeñan un papel esencial a la hora de criar a los/as niños/as y ayudarles a crecer. Con la ampliación de la financiación, los apoyos de WEESSN pueden ayudar a aumentar los salarios del personal para atraer y retener a personas con talento. WEESSN ofrece telemedicina y un programa de asistencia para educadores (EAP) a los programas inscritos, junto con el acceso a los asistentes Affordable Care Act a través de Covering Wisconsin. Los/as asesores/as de WEESSN estarán encantados/as de ayudar a los/as proveedores/as a presupuestar y acceder a otros beneficios para el personal y a crear e implementar una escala salarial que recompense el talento de los/as maestros/as e incentive la retención.    
Los proveedores y las proveedoras de cuidado infantil tienen un doble papel: proporcionar un cuidado excepcional y gestionar negocios que necesitan prosperar. Los/as proveedores/as no pueden conformarse con el alivio inmediato, aunque temporal, que ofrece esta ampliación de la financiación. Este momento representa un momento para tomar medidas compasivas pero centradas en el negocio para lograr ese equilibrio. WEESSN y los/as proveedores/as de cuidado infantil están dispuestos a utilizar activamente este tiempo para hacer cambios que garanticen la sostenibilidad del negocio y por lo tanto asegurar un futuro más brillante para los/as niños/as más pequeños/as de Wisconsin. 
Para obtener más información sobre WEESSN y sus servicios, visite nuestro sitio web.