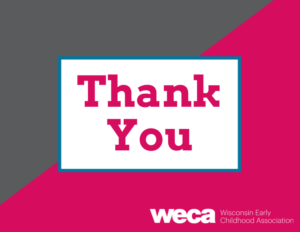 Thank you Governor Evers and the Wisconsin State Legislature for the investment of federal CARES Act funding into Wisconsin's child care programs throughout the COVID-19 pandemic. Programs around the state have said that this funding has been vital in helping them stay open while enrollment numbers fluctuate or centers temporarily close due to COVID.
During this historic time, child care providers in Wisconsin have continued to provide early care, education, and support for children and their families. Providers are working harder than ever knowing that Wisconsin parents are depending on them so that they can work and provide for their families and communities.
The federal funding that the state passed through to programs has helped more stay open that otherwise would have permanently closed. COVID-19 has hit this essential industry hard around the country, yet not all states have been as responsive as Wisconsin in distributing federal CARES Act funding to programs to help them whether the pandemic. Some states have been unprepared to distribute federal funding to early care and education programs, resulting in money being returned to the federal government because states were unable to act in a timely matter.
All of us at the Wisconsin Early Childhood Association take great pride in the early care and education workforce of Wisconsin and the role that providers play in our state's economy and children's education. While this is an incredibly difficult time, we feel hopeful that as a statewide community, we are looking out for and caring for one other as best we can. Thank you, early care and education providers, and thank you, Wisconsin elected officials.