Blog & News
Stories are powerful. Stay connected to WECA's impactful journey through our blog and news coverage.
Early Childhood Education News
Wisconsin Early Childhood Association Blog
A hub of first-hand perspectives, calls to action, program and initiative information and other timely updates.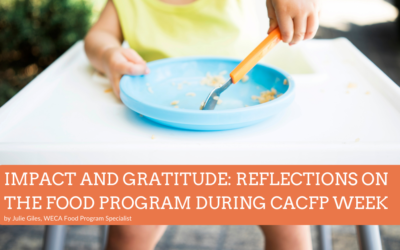 Across the nation, CACFP has helped feed millions and millions of children and adults since its inception in 1968. In Wisconsin, its impact continues to be wide-ranging: In 2021, WECA's Food Program has helped family child care providers serve more than 2 million meals to 5,000 young children in 550 child care programs across the state. The WECA Food Program proudly serves all 72 counties and 11 Tribal nations in Wisconsin.
read more